Volunteering
Experience report
In October 2018 I was the first volunteer at the Delkhash Guesthouse just right before the opening.
First of all, the managers in the Guesthouse can introduce you to this beautiful desert city and sourrounding places pretty well, because they come from Yazd, but have lived in Europe as well. They did everything to make me feel happy, comfortable and welcome.
For the project itself, it is great to just feel in the house and find your place and things to work on. Basically I helped in deciding on and building some decoration, cleaning and developing ideas to create a warm hearted spot for cultural exchange.
Tasks
Tasks for future volunteers will be communication with guests, organisation at the reception, helping in preparing current cultural events, helping to prepare the breakfast and cafe, support in social media and some cleaning if necessary.
Still, you have the freedom to bring your own ideas and make a personal, individual income on this project. The minimum of stay is 10 days and you will work around 6 hours more or less.
Personally, I definitly recommend volunteering at this guesthouse- it made me delkhash. Yazd is a great place to stay for longer because there are some interesting sight seeing spots to see, some kind people to meet on the street, some hidden mud alleys to get lost in and stunning views to enjoy from the rooftops, all in all it has a laid back atmosphere and especially in the Delkhash you can escape from the city hustle and relax.
Anna Aladin
You want to be our next Volunteer? 
Contact us!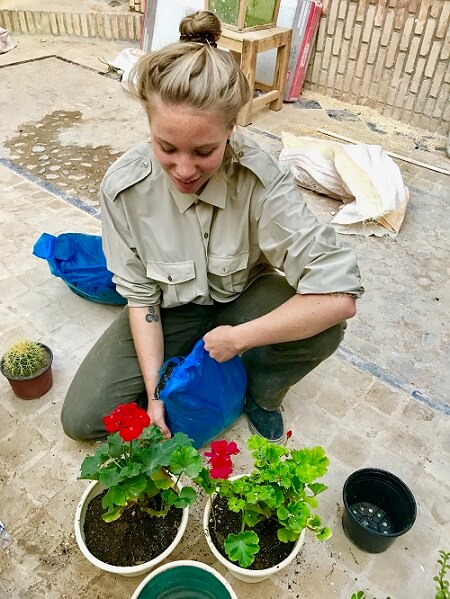 phone
+98 913 373 8009
+98 919 351 7804
WhatsApp: 
+49 176 9763 1919