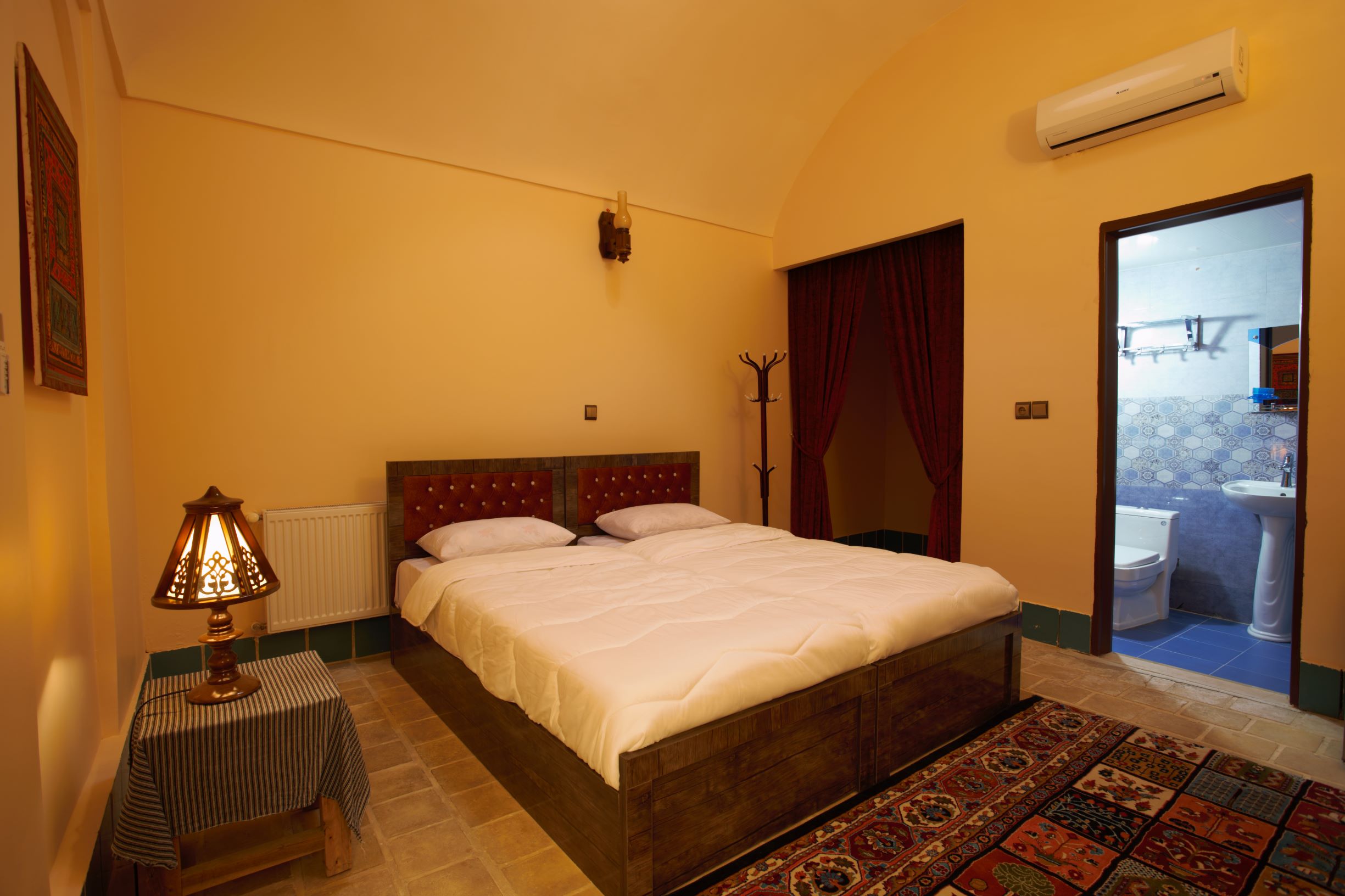 Delkhash is an Eco Lodge, called "Boomgardi" in Persian, and has 7 rooms. Five of them have beds and bathrooms included. Two other rooms have been renovated in a traditional Persian style with pillows, blankets and mattresses. There are shared toilets and bathrooms in the yard.
Saffron room: 
Saffron, also called "red gold", with its beautiful purple blossom, is a defining ingredient in Persian cuisine. The reddish colour that this spice is famous for gives this room a warming atmosphere. Two beds, heating and air conditioning, and of course – a Persian carpet- will make you feel at ease. A private bathroom with a European toilet and shower are included within the room as well.
Sesame room:   
Open, sesame! Passing through the big wooden folding gate, you will find yourself in a large, wide room that will give you lots of space to unfold. The sesame coloured walls cause a natural, calm atmosphere, as does the warm light shining through three windows. A big bathroom including a European toilet, shower as well as a fridge, wardrobe and cupboard will make you feel comfortable. There are three beds within the sesame room, therefore being ideal for a family with a child. However the wind is gonna turn: there is central heating and air conditioning too.
Rose room:
Entering through the flowering courtyard, you follow the steps down to a lower level to reach the charming rose room – relating to the delightful smell of the famous Iranian rose water. There is one double bed, so it fits best for solo travellers or couples. Just accessible from the room is a private bathroom with a European toilet and shower. Air conditioning, central heating, a wardrobe as well as a fridge are included. To make your sleep as comfortable as possible, there are special mattresses in all the Delkhash bedrooms: you can choose between a hard and a soft side.
Pistachio room: 
Next to saffron, sesame and rose there is something typically Iranian missing: the green pistachio looking out of its husk. Fresh and bright, the room has four beds to sleep in and relax. Various ornamental lamps illuminate the room with a welcoming warmth. As in the other rooms, the room offers a hairdryer, central heating, air conditioning, a private bathroom including a European toilet and shower as well as calmness. A colourful patterned rug creates a cosy vibe.
Traditional room: 
Just like the outer walls of the old city in Yazd, the traditional rooms walls are made from mud. There are three modest beds, air conditioning, central heating, wardrobe as well as a private bathroom with a European toilet and shower. It offers great opportunity to escape from the city hustle and wind down in your private spot.
Nostalgic room:
Constructed using mud and ancient techniques, the nostalgic room has space for four guests to stay in and sleep on traditional Iranian mattresses laying on the ground – like the Iranian style. Three sets of folding doors allow large amounts of natural light to enter or to get hold back by flowing curtains. Air conditioning and central heating are included in the room, whilst the bathroom is shared.
The dorm: 
On the basement floor, a simple room invites those travelling on a budget. It contains four iranian mattresses, air conditioning and central heating, too. The bathroom, wheather within a toilet and shower or Iranian style is shared.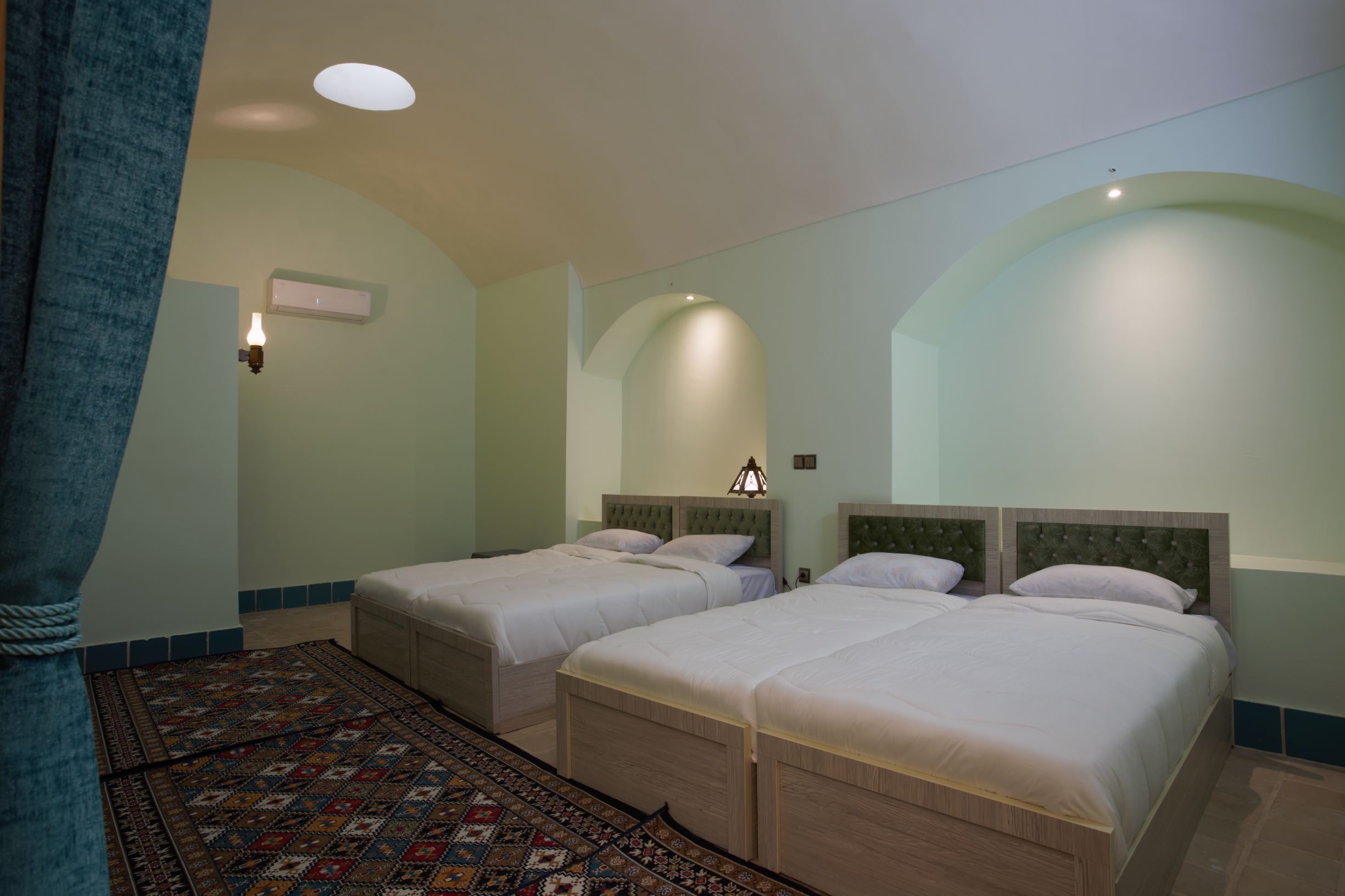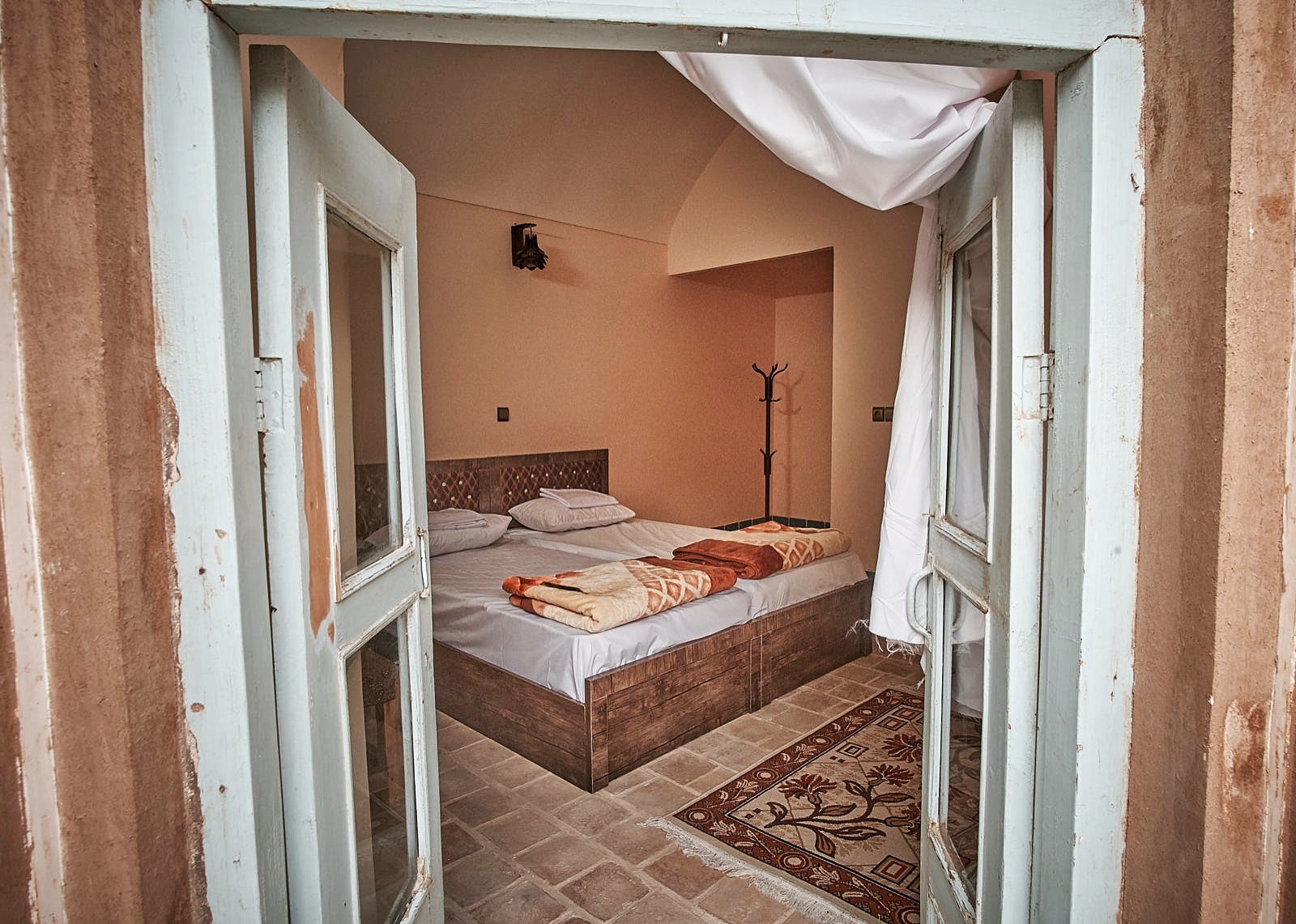 You want to reserve a room? 
Contact us!
phone
+98 913 373 8009
+98 919 351 7804
WhatsApp: 
+49 176 9763 1919